Jazz Pretenders Jazz Fusion
Jazz Pretenders were formed in Barcelona by Jordi Blanch, whose sojourn in New York spawned what was to become their musical idiom and outlook: an electric jazz evoking past triumphs without ignoring current trends; a Jazz-groove glimpse of things to come, taking the listener on an emotionally charged roller-coaster ride of a live show.
The band's potent sound has already graced the stages of Madrid's Círculo de Bellas Artes Jazz Festival, Barcelona Blues Festival, Terrassa Jazz Festival and the Paleo Music Festival, to name but a few.
Jazz Pretenders venture into the fields of fusion, returning with sonic gems to bedeck the crown of a  coming 20's Jazz age.
Jordi Blanch-    Tenor sax
Toni López-       Electric guitar
Dani Peña-        Electric bass
Marcos López-  Drums
Photo: Press photo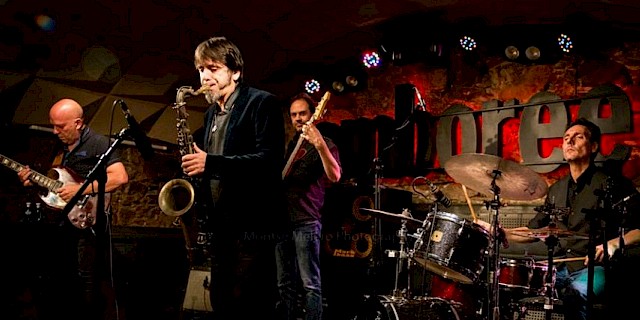 Songs
To play the media you will need to either update your browser to a recent version or update your <a href="http://get.adobe.com/flashplayer/" target="_blank">Flash plugin</a>