Los Stompers Irish music for the XXI century
Since forming in Barcelona in the late 90's, post-Irish group Los Stompers have evolved from their pub-folk origins to attain landmark status on the Barcelona music scene.
Their current album, Life is Elsewhere (Ventilador Music, 2017), continues this musical evolution, albeit with a more intimate folk flavour than recent outings.The band's Irish roots play a key role in their music, as is only to be expected from the prime movers of the Barcelona Irish Sound. Thus, by drawing on and reinterpreting elements of Irish myth and legend, Life is Elsewhere represents a critical reappraisal of the "Celtic soul": the constructs of self and nationhood explored through fable and fantasy.
 
Los Stompers have performed throughout Spain and across a large part of Europe; appearing at, amongst others: Skägen Festival (Denmark), Kultur Navarra, Fiestas de la Blanca (Vitoria), Fresc Festival Sabadell (Barcelona, Festival Intercéltico de Avilés (Asturias), Mediàtic Festival (Alicante), Folk a Muralla (Girona), La Fira de Tàrrega and Festes de Gràcia (Barcelona). They have released six albums on the Ventilador Music label, garnering favourable reviews in local and national press, and enjoying airplay on Spanish Radio  and Television (M80, Cadena 100, RAC 105, TV3, TVE2 & Canal33).
A flawless, assured and well-informed piece of work… a salutary new dimension, founded on an eclectic approach.- La Vanguardia
Brian O'Mahony          Acoustic Guitar & Vocals
Dara Luskin                Bass & Vocals
Kiko Fergananim        Mandola & Vocals 
David Holmes             Violin
Marcos López             Drums
Stephane Jaïs             Keyboards & Vocals
Photo: Press photo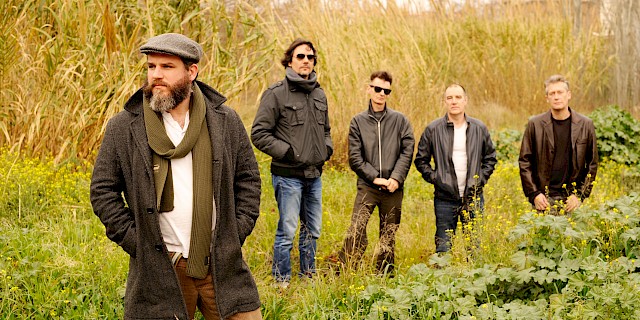 Songs
To play the media you will need to either update your browser to a recent version or update your <a href="http://get.adobe.com/flashplayer/" target="_blank">Flash plugin</a>